Egg White Omelette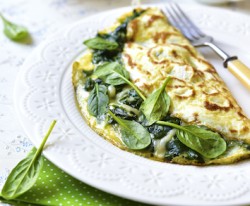 Egg White Omelette
Time: 20 min | Difficulty: Easy | Serves: 1
Ingredient
olive oil
2 green onions, sliced
50g baby spinach
sea salt and cracked black pepper
100ml Zeagold egg white (3 egg whites)
Steps
Lightly apply olive oil on a non-stick frying pan. Add green onion & spinach, and cook over medium heat until spinach is wilted. Remove from pan and season with sea salt and cracked black pepper.
In a bowl, whisk Zeagold egg white until soft peaks form.
Add Zeagold egg white to the pan and cook over medium heat for 2 minutes or until nearly set. Sprinkle spinach filling over half the omelette and cook for further 3 minutes or until the base is golden.
---