Chicken, Bean Sprouts and Bamboo shoots with Fragant Noodles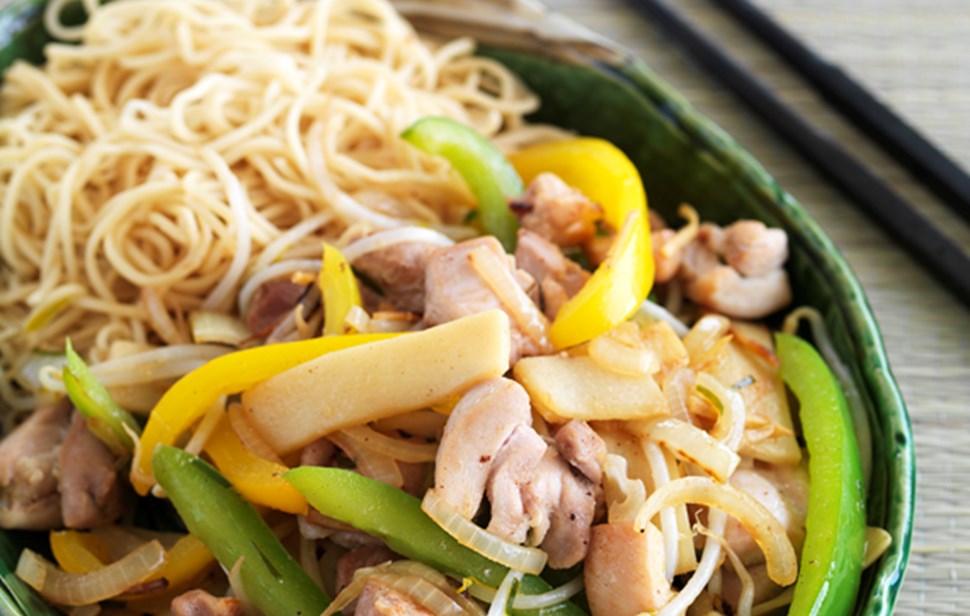 Chicken, Bean Sprouts and Bamboo shoots with Fragant Noodles
Time: 25 min | Difficulty: Easy | Serves: 4
Ingredient
2 tsp light cooking oil
2 tsp fish sauce
1 tsp sugar
3 cm piece of ginger, peeled and cut into fine strips
1 kaffir lime leaf, cut into thin strips
2 cloves garlic, crushed
400g Chicken Skinless Thighs, diced
200g dried noodles
1 Tbsp tamarind purée
1 Tbsp soy sauce
2 tsp sesame oil
1 tsp sugar
1 small onion, sliced
1 green pepper, deseeded and thinly sliced
1 yellow pepper, deseeded and thinly sliced
½ cup drained bamboo shoots, cut into matchsticks
1 cup mung bean sprouts
Steps
Put all the ingredients in a small bowl and stir until the sugar has dissolved. Toss the Chicken Skinless Thighs through the marinade making sure the chicken is well coated. Cover and refrigerate for 30 minutes.
Cook the noodles according to the directions on the packet.
combine the tamarind purée, soy sauce, sesame oil and sugar. Drain the noodles and toss through the tamarind mixture.
Heat a dash of oil in a frying pan. Add the chicken and brown over medium heat for 3–4 minutes.
Add the onion and green and yellow peppers to the pan and stir-fry for 3–4 minutes.
Add bamboo shoots and bean sprouts and stir-fry for 1 minute or until the chicken is cooked through.
Serve immediately with the fragrant noodles.
---