Buttermilk Fried Chicken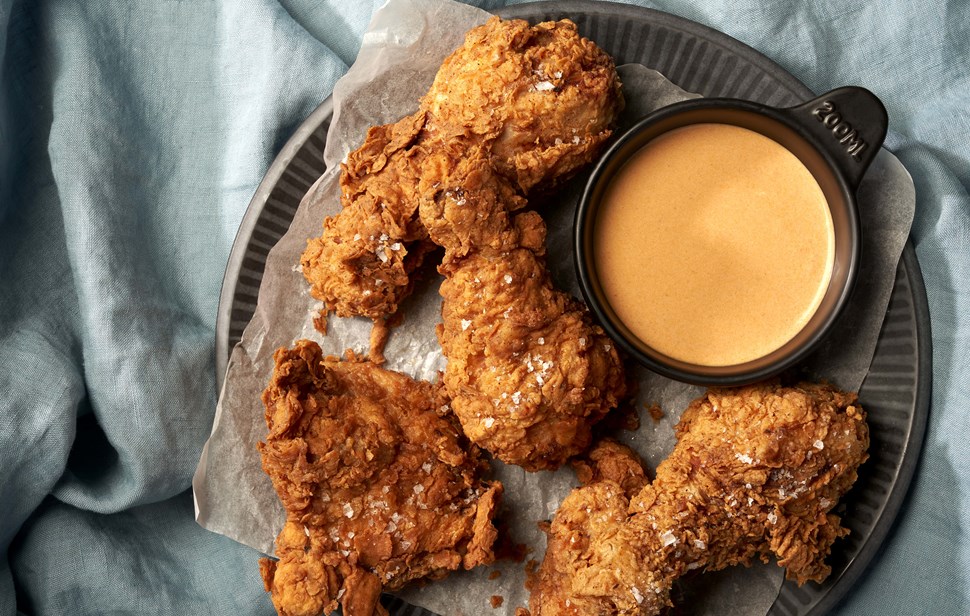 Buttermilk Fried Chicken
Time: 60 min | Difficulty: Easy | Serves: 4
Ingredient
4 Chicken Drums
4 Chicken Skinless Thighs
3 teaspoons salt
1 teaspoon baking powder
2 teaspoons brown sugar
2 cups buttermilk
1 egg
2 tablespoons hot sauce
3 cups flour
2/3 cup corn flour
2 tablespoons smoked paprika
2 litres of vegetable oil, for frying
Chipotle mayo to serve
Steps
Add the chicken to a large bowl with the baking powder, sugar & 2 teaspoons salt and toss to combine. Cover and refrigerate for at least 2 hours.
In a bowl mix together the buttermilk, egg & hot sauce – set aside.
In a separate bowl, mix together the flour, corn flour, paprika and 1 teaspoon salt.
Place all the chicken in the buttermilk mixture and toss to coat.
Pour ¼ cup of the buttermilk mixture into the flour mixture and work in with your fingers.
Working with one piece of chicken at a time, remove from the buttermilk mixture and allow any excess to drip off. Transfer to the flour mixture and using your hands, pack the flour mixture very firmly onto the chicken pieces. Transfer to a wire rack and repeat with remaining pieces.
Pour the oil into a large, heavy bottomed pot or fry pan. Heat over medium heat to 180°C.
Working in batches, gently place your chicken pieces in the oil, making sure you add the same cuts at the same time to ensure even cooking. Cook the drumsticks for 15 – 18 minutes, and the thighs for 10 – 15 minutes.
Transfer to a wire rack or paper towel lined tray to soak up any excess oil.
---